2. Some clients thought the Efficiency Coaching wasn't for them
3. That's what they said before becoming our clients
4. What our clients will tell you about us
5. One of the benefits of the Efficiency Coaching
6. How much more can you get done?
7. An important result of the Efficiency Coaching
8. Efficiency Coaching improves staff motivation
9. How the Effiziency Coaching improves the personal life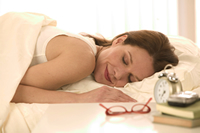 10. A systematic upgrade for your mind
11. Why the Efficiency Coaching is the preferred choice
12. Is the Efficiency Coaching a good investment for you?
13. Do our clients feel comfortable recommending us?
"I Sleep Better"
"It has made a tremendous difference in my performance professionally and personally in the last 3 weeks. Not only have my headaches and stress decreased, but I now have a lot more free time to develop more business and actually have a personal life outside of work."
Tu-Anh of polished by tu-anh, Alexandria, VA 22310
"I love the fact that my workspace is clean and orderly now. My desk is always clean, and there are no more stacks on the floor either. This creates a strong feeling of stability and sanity while working, and I have not felt overwhelmed once since getting this done."
Greg Mitchell, The Mitchell Firm, Washington, DC 20006
"If you are considering doing the Efficiency Coaching, I suggest just doing it and stop considering it. You'll find work is a lot more enjoyable as an executive and you'll sleep better at night without all the things that you needed to do floating around in your head."
Dr. Kathryn Thompson, D.C., New Life Wellness Center, Vienna, VA, 22180
"I would have never believed it. I can see and feel the difference in my life. I go home now and only think about my family. I have been able to sleep well for the past four days, and am no longer taking my work home with me. With the implementation of my hats and set task forms I have a control in my business that I never thought was possible."
Jennifer Berman, President, Ashton Imaging, Inc. Great Falls, VA, 22066
"It is with pleasure that I provide this letter of recommendation and testimonial for the services of Management Partners International, Inc. In late May, I began working with one of their coaches to implement the Efficiency Management System. We initially focused on my business as the target for the System, but it quickly became evident that I needed to expand it to areas of my personal life as well. After the initial interview and coaching, I was very excited about undertaking the effort as I was introduced to some concepts that immediately reduced stress in my life and helped me think clearly and make better decisions. The coaching sessions furthered the stress reduction and helped me clear out the tremendous backlog of paper that had accumulated in my office. As we went along, I developed my own policies that made processing the day to day matters so much easier, and yes, efficient!"
Rebecca J. Choi, Groupforward LLC, Alexandria, VA, 22312
Management Partners International, Inc.
2907 Dover Lane Ste. 203, Falls Church, VA 22042
Phone/Fax: (703) 666.8160
Cell: 202.413.0856


Building a successful business is more than just being in the right place at the right time with the right service or product.
It's about learning how your business flows, how your systems need to work to help you build and achieve.
If you haven't made an appointment yet to speak to an Efficiency Expert
then contact us and get started moving in the right direction.