1. Before the coaching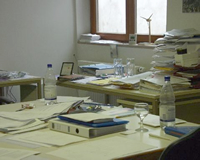 2. Some clients thought the Efficiency Coaching wasn't for them
3. That's what they said before becoming our clients
4. What our clients will tell you about us
5. One of the benefits of the Efficiency Coaching
6. How much more can you get done?
7. An important result of the Efficiency Coaching
8. Efficiency Coaching improves staff motivation
9. How the Effiziency Coaching improves the personal life
10. A systematic upgrade for your mind
11. Why the Efficiency Coaching is the preferred choice
12. Is the Efficiency Coaching a good investment for you?
13. Do our clients feel comfortable recommending us?
"My Office was Out of Control"

"My office and my home office were both out of control. I could never find items; I was constantly up against deadlines, extremely frustrated, and terribly overburdened with mail, emails, telephone calls, filing, supervision of workers, and the general press of business.

The transformation has been nothing short of amazing. My office hasn't looked this way since 1993, twelve years ago. I instituted a superior filing and task assignment system, reorganized my bookshelves, my research, my class notes, and reordered my desk so that each task can be handled expeditiously and competently.

I am ecstatic about the results of our work and I recommend their consultancy services to anyone with the issues that I have faced."

Bernard K. Freedman, Professor of Law, School of Law - Seaton Hall University, Newark, NJ 07102

"Before this I had been overwhelmed by the growing mound of paperwork that I simply had no idea what to do with. My office was not a place I was particularly proud of and I was not productive in it. It now feels like my office has doubled in size and I actually enjoy being in it."

Nicole Friedland, D.C., Cottonwood, AZ, 86326

"My efficiency has gone way up and I have no more piles of backlogs anywhere. My desk is free from clutter and I like going into my office now."

Lonnie Davis, DVM, Troy Animal Hospital/Bird Clinic, Troy, OH, 45373

"I have many projects and activities I'm involved in and I found out that I wasn't working efficiently at all. I've been putting my energy into busy work and coping. I'm probably the best "coper" I know. This program was incredibly put together and I love it!"

Dr. Eric Berg, D.C., The Health & Wellness Center, Alexandria, VA, 22312

"My office remained in a state of messiness and cope was the standard operating procedure. A clean desk was a rare occurrence. I feel like being in my area. I feel like working in my area. I feel like keeping my area clean. I know where things are. It is a fun game now to be here."

Cyndie Tobin, Theta Media Group, Inc., Burbank, CA, 91506

"A definite must if you want to stop being stressed-out in your practice and have more time and energy back in your life again to do things you enjoy."

Dr. Karen Schellack, D.C., Network Wellness Center, Cottonwood, AZ, 86326
Management Partners International, Inc.
2907 Dover Lane Ste. 203, Falls Church, VA 22042
Phone/Fax: (703) 666.8160
Cell: 202.413.0856


Building a successful business is more than just being in the right place at the right time with the right service or product.
It's about learning how your business flows, how your systems need to work to help you build and achieve.
If you haven't made an appointment yet to speak to an Efficiency Expert
then contact us and get started moving in the right direction.