2. Some clients thought the Efficiency Coaching wasn't for them
3. That's what they said before becoming our clients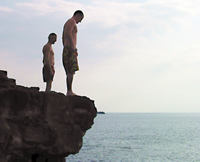 4. What our clients will tell you about us
5. One of the benefits of the Efficiency Coaching
6. How much more can you get done?
7. An important result of the Efficiency Coaching
8. Efficiency Coaching improves staff motivation
9. How the Effiziency Coaching improves the personal life
10. A systematic upgrade for your mind
11. Why the Efficiency Coaching is the preferred choice
12. Is the Efficiency Coaching a good investment for you?
13. Do our clients feel comfortable recommending us?
"Initially I Was a Bit Skeptical"
"While I was initially a bit skeptical of Gerhard's process, it really does work. Now, instead of moving papers around, procrastinating, missing deadlines and not being able to hold staff accountable for their work, I am able to accomplish these tasks and spend more time working at a higher leadership level."
Craig A. Rocklin, American Red Cross National HQ, Washington, DC 20006
"What was really the best was that I had to show him that I could apply the data now. It was more than theory, is was application here and now."
Scott L. Shelby, D.C., Shelby Chiropractic, Cincinnati, OH, 45238
"At the beginning I was concerned about the cost of it. I thought it was a little high. However, this service has been worth way more to us than what I paid for it and I thank you for your insistence on getting us to do it."
Lonnie Davis, DVM, Troy Animal Hospital/Bird Clinic, Troy, OH, 45373
"I have always created piles of things. I've even been proud of my piles. But as business became more complex, I found that I couldn't find what I needed, didn't have adequate places to put things. These piles were no longer working for me - and had they ever, really? I always got things done, but was I doing the right things? And sometimes my famous multi-tasking behavior left me frustrated. I was skeptical about Efficiency Coaching because I thought messiness was an endearing part of my personality. Was I willing to be influenced? I decided to try it, but my arms were crossed in defense.
It was not easy to welcome my coach into my home or my home office. I almost called to cancel more than once. But I wanted this promised result, so I kept the appointment. Efficiency coaching has been well worth the investment. Maintaining my new-found habits is up to me and hopefully a follow-up visit from my coach. I recommend that you try this process, however scared you may be!"
Linda Barker, Partner, Business Impact Associates, Reston, VA, 20191
"It now has been four days and my desk is still clean. I used to believe that because I am an artist, my organizational skills were non-existent. I can still hear myself saying, "I am an artist, not a business person." Well, that is not the case. I now realized that I wouldn't have a successful business if I were not good at it. I just needed someone to show me how to organize and implement a process for completing my task at hand."
Jennifer Berman, President, Ashton Imaging, Inc. Great Falls, VA, 2206
Management Partners International, Inc.
2907 Dover Lane Ste. 203, Falls Church, VA 22042
Phone/Fax: (703) 666.8160
Cell: 202.413.0856


Building a successful business is more than just being in the right place at the right time with the right service or product.
It's about learning how your business flows, how your systems need to work to help you build and achieve.
If you haven't made an appointment yet to speak to an Efficiency Expert
then contact us and get started moving in the right direction.