2. Some clients thought the Efficiency Coaching wasn't for them
3. That's what they said before becoming our clients
4. What our clients will tell you about us
5. One of the benefits of the Efficiency Coaching
6. How much more can you get done?
7. An important result of the Efficiency Coaching
8. Efficiency Coaching improves staff motivation
9. How the Effiziency Coaching improves the personal life
10. A systematic upgrade for your mind
11. Why the Efficiency Coaching is the preferred choice
12. Is the Efficiency Coaching a good investment for you?
13. Do our clients feel comfortable recommending us?
"Some Can't Stop Talking About It"
"It is with great pleasure to recommend Gerhard for his efficiency training. While going through the initial process he brought me to a better understanding of many process systems that ensured that the mission statement of the company was adhered to in all facets of my company. His understanding of the human element commanded my attention and we spent several hours discussing real life scenarios to help me better build my company."
Mark Putiyon, Tech Solutions, Montclair, VA 22025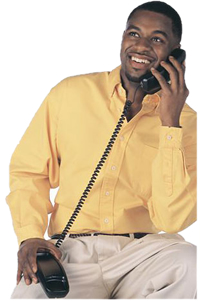 "Efficiency coaching is really a Socratic process. My coach asked me questions, prompted me to make observations and pushed me when I didn't answer completely. He prompted me to articulate, for the first time, major goals of my work and principles of my business, and we transformed these goals into "hats" I wear or roles I take on, and then transformed those roles into the major "buckets" of things I need to do. Now my office is organized into those categories, and it's so much easier to figure out what to do and do it! An amazing discovery to me was how much of my personal stuff was mixed up with my business stuff - it's a home office, right? Now the personal stuff is in another place, and I have a project plan for creating new office areas that will help me maintain this freeing sense of organization."
Linda Barker, Partner, Business Impact Associates, Reston, VA, 20191
"Thank you for taking the time to work with us to increase our productivity through the implementation of the Efficiency Management System. We have seen our capacity for business growth increase geometrically, right before our eyes. The fact that the concepts are so individually suited lends well to the idea of continued success. We did not need to change who we are, or how we are, to succeed with the help of our system. It was merely a change in our ability to recognize what areas of responsibility we have and how to solve our minute by minute challenges. Your tireless pursuit of, and your partnership in our journey to the accomplishment of our major goals is legendary. Thanks again for caring about us, and embodying the attitude that our success is your success."
William Davey & Susie Stout, Fredericksburg's Best Windows, Doors & Siding, Fredericksburg, VA, 22407
Management Partners International, Inc.
2907 Dover Lane Ste. 203, Falls Church, VA 22042
Phone/Fax: (703) 666.8160
Cell: 202.413.0856


Building a successful business is more than just being in the right place at the right time with the right service or product.
It's about learning how your business flows, how your systems need to work to help you build and achieve.
If you haven't made an appointment yet to speak to an Efficiency Expert
then contact us and get started moving in the right direction.