2. Some clients thought the Efficiency Coaching wasn't for them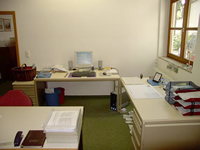 3. That's what they said before becoming our clients
4. What our clients will tell you about us
5. One of the benefits of the Efficiency Coaching
6. How much more can you get done?
7. An important result of the Efficiency Coaching
8. Efficiency Coaching improves staff motivation
9. How the Effiziency Coaching improves the personal life
10. A systematic upgrade for your mind
11. Why the Efficiency Coaching is the preferred choice
12. Is the Efficiency Coaching a good investment for you?
13. Do our clients feel comfortable recommending us?
"My Desk Always Looked Good"

"Especially interesting to me is how effortlessly I have incorporated the basic principles into my daily routine, which is ordinarily no easy feat considering how long, like all of us, I've had my own systems in place. I've always considered myself to be an organized person, but realize now I just thought I was organized. What a revelation! Many thanks."

Vicki Williamson, Carter Cosgrove & Co., Alexandria, VA 22314

"Since I received the coaching, I have become so much more organized; more than I thought I'd ever be. And I thought I was organized before. As a result, I'm able to take on more projects and do more to accomplish my goals and purpose in life. It's just awesome how productive I've been since receiving this. Thank you very much."

Greg Mitchell, The Mitchell Firm, Washington, DC 20006

"I am a product of 6 years of Singer Management, a graduate of many of the MGE management courses and study business administrative technology texts on a regular basis. I have completely adopted the ideas of Steven Covey's book, "The Seven Habits of Highly Successful People" and numerous Hubbard texts on the subject of work and efficiency. I manage 3 practices of my own, 12 with partners and have 26 satellite locations. I own a home theater business and am presently developing property in Cancun, Mexico. I am 2nd vice president of the Maryland State Chiropractic Association and I am growing my business from 41 locations today to 100 by the end of this year. Using my time efficiently is, to say the least, important."

Dr. Richard Schmitt, Atlast Health Care Centers, Bowie, MD, 20716

"I have been a business executive for the past 20 years. I have received every variety of management training classes including those from the Harvard School of Business management workshops to leadership training classes. I have even received certifications in project management and business process re-engineering. However, I have never had anything even remotely similar to the Management Partners International Efficiency Management System training. The mental exercises, efficiency processes, and systems deployed consisted of so many radical concepts that when each was first introduced, invariably the result was disbelief. But once the concept was grasped, the result was nothing short of an epiphany."

David R. Schulman, President, Sales Acceleration, Falls Church, VA, 22044
Management Partners International, Inc.
2907 Dover Lane Ste. 203, Falls Church, VA 22042
Phone/Fax: (703) 666.8160
Cell: 202.413.0856


Building a successful business is more than just being in the right place at the right time with the right service or product.
It's about learning how your business flows, how your systems need to work to help you build and achieve.
If you haven't made an appointment yet to speak to an Efficiency Expert
then contact us and get started moving in the right direction.